FLIR A6 Series Cameras
---
Industrial thermal imaging camera
The FLIR A615 is an easy-to-use, affordable, compact thermal imaging camera for condition monitoring, process control/quality assurance and fire protection. The camera is fully PC controllable and, thanks to its standards compliance, plug-and-play compatible with software packages from National Instruments, Cognex, Matrox, MVtec and Stemmer Imaging.
VERY HIGH IMAGE QUALITY
Equipped with a 640 x 480 pixel microbolometer, the FLIR A615 can detect temperature differences of up to 50 mK, ensuring accuracy at longer distances
LINEAR TEMPERATURE OUTPUT WITH 16-BIT
Thanks to the linear 16-bit temperature output, non-contact temperature measurement can be performed with any third-party software.
STREAMING IN HIGH FREQUENCY RANGE
Stream full 16-bit images at 50 Hz or up to 200 Hz in blanking mode for high-speed processing.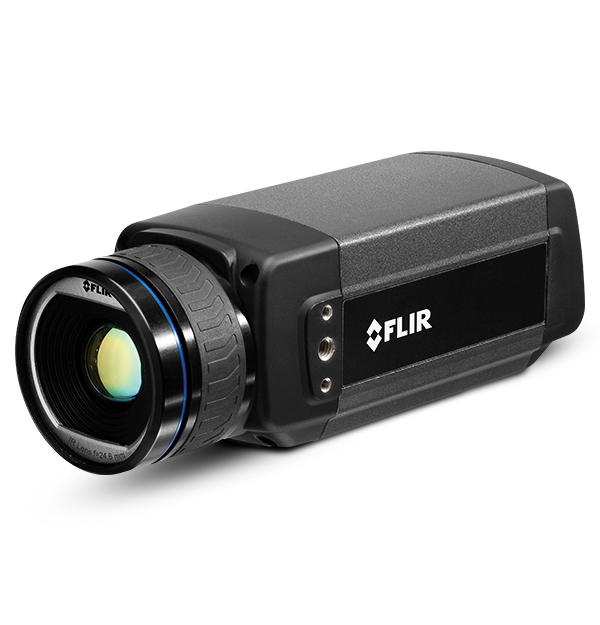 Track temperature changes, stream radiometric images
The FLIR A615 produces high-quality infrared images with a resolution of 307,200 pixels and has built-in temperature measurement, so you can measure any point in the target area up to 2000 °C.
TECHNICAL DATA
Digital inputs: 2 via optocouplers, 10-30 V DC
Purpose digital output: output to external device (is written program-controlled)
Digital outputs: 2 via optocouplers, 10-30 V DC, max. 100 mA
EMC: EN 61000-6-2:2001 (immunity), EN 61000-6-3:2001 (radiation), FCC 47 CFR part 15 class B (radiation)
F-number: 1.0
Frame rate: 50 Hz (100/200 Hz with windowing)
Thermal sensitivity / NETD: < 0.05 °C at +30 °C/50 mK
Accuracy: ±2 °C or ±2 % of measured value
COMMUNICATION AND DATA STORAGE
Digital outputs: 2 via optocouplers, 10-30 V DC, max. 100 mA
Digital inputs: 2 via optocouplers, 10-30 V DC
Ethernet: Control and image
Ethernet image streaming: 16-bit 640 x 480 pixels at 50 Hz, 16-bit 640 x 240 pixels at 100 Hz, 16-bit 640 x 120 pixels at 200 Hz (Signal linear, Temperature linear, Radiometric Compatible with GigE Vision and GenICam)
Ethernet communication: Based on FLIR proprietary TCP/IP socket and GenICam protocol
Ethernet protocols: TCP, UDP, SNTP, RTSP, RTP, HTTP, ICMP, IGMP, ftp, SMTP, SMB (CIFS), DHCP, MDNS (Bonjour), uPnP
Ethernet standard: IEEE 802.3
Ethernet type: Gigabit Ethernet
USB: control and image
USB - image streaming: 16-bit 640 × 480
USB - Communication: Based on a TCP/IP socket, proprietary to FLIR
USB - Standard: USB 2 HS
USB - Protocols: TCP, UDP, SNTP, RTSP, RTP, HTTP, ICMP, IGMP, ftp, SMTP, SMB (CIFS), DHCP, MDNS (Bonjour), uPnP
USB - connector type: USB Mini-B
Purpose digital output: output to external device (is written programmatically)
Purpose digital input: image marker (start/stop/general), image sequencer (stream ON/OFF), input to external device (is read programmatically)
IMAGING AND OPTICAL DATA
Frame rate: 30 Hz
F-number: 1.25
Focal length: 25 mm
Detector pitch: 17 µm
detector type: focal plane array (FPA), uncooled VOX microbolometer
Detector time constant: normally 12 ms
FLIR Screen-EST Mode: No
Focus: Fixed
IR Resolution: 640 x 512 Pixel
Spatial resolution (IFOV): 0.68 mrad
Field of View (FOV): 25° x 20° with 25 mm lens
Spectral range: 7.5 - 13 µm
Thermal sensitivity / NETD: < 0.05 °C at 30 °C/50 mK
MEASUREMENT AND ANALYSIS
Equivalent temperature correction: Automatic, based on the reflected temperature input.
Emissivity correction: Variable from 0.5 to 1.0
Accuracy: ±5 °C or ±5 % of measured value
Camera dimensions (L × W × H): 106 mm x 47 mm x 50 mm
Atmospheric transmittance correction: Automatic, based on distance, atmospheric temperature, and relative humidity data
Optics transmittance correction: Automatic, based on signals from internal sensors
External optics/windows correction: Automatic, based on input of transmittance of respective optics/windows and temperature
Measurement corrections: Global object parameters
Object temperature range: -25 °C to 135 °C/-40 °C to 550 °C
GENERAL INFORMATION
Housing material: magnesium and aluminum
Weight: 0.21 kg
Base mounting: 4 x M3 threaded holes (bottom)
ENVIRONMENTAL FACTORS AND CERTIFICATIONS
Operating temperature range: -15 °C to +50 °C
EMC: EN 61000-6-2:2001 (immunity), EN 61000-6-3:2001 (radiation), FCC 47 CFR Part 15 Class B (radiation)
Housing: IP 30 (IEC 60529)
Storage temperature range: -40 °C to +70 °C
Humidity (operation and storage): IEC 60068-2-30/24 h 95 % relative humidity +25 °C to +40 °C
Shock resistance: 25 g (IEC 60068-2-27)
Vibration: 2 g (IEC 60068-2-6)
POWER SUPPLY
Operation with external power supply: 12/24 V DC, < 3.5 W nominal value < 6.0 W absolute maximum value
Voltage: Permissible measuring range 10 - 30 V DC
Scope of delivery:
1x hard shell transport case or cardboard packaging
1x FLIR infrared camera with lens
1x CD-ROM with utilities
1x calibration certificate
1x Ethernet™ cable
1x USB cable (FLIR A615)
1x power cable
1x power cable (with connecting lead)
1x power supply unit
1x printed quick start guide
1x summary of important information (printed)
1x CD-ROM with user documentation
1x warranty extension card or registration card
1x 6-pin screw terminal (mounted on the camera)
---
Shipping weight:
1,10 Kg
Product weight:

0,70

Kg