SoftGripper Engeneering Kit
---
With the Engineering Kit you can find your perfect gripper for high-speed automation. The kit consists of a total of 6 SoftActuator fingers, which can be freely mounted on the different plates supplied. Thus, any configuration is possible and you can adapt the gripper exactly to your component. The robot flange also offers holes for all common ISO standards and can be easily mounted with the included tool. The kit comes in a case with appropriate accessories and pneumatic lines and connectors.
The fingers are fixed to the oblong hole plates by means of adapters and can be moved along the plate at any time by loosening the screws to find the optimum distance and orientation. 6 fingers are more than enough to grip all common objects. Be it food, packaging, medicines or generally fragile objects.
SoftGripping fingers are universal and can be used with any object shape. On the one hand, SoftGrippers are used for all pick & place tasks. The outstanding hygienic design makes cleaning particularly easy. For applications with special hygiene requirements, such as handling raw or processed meat or fish, our SoftGripper bases are available with a special FDA-approved coating. Handles can be machine cleaned or cleaned with a cleaning solution.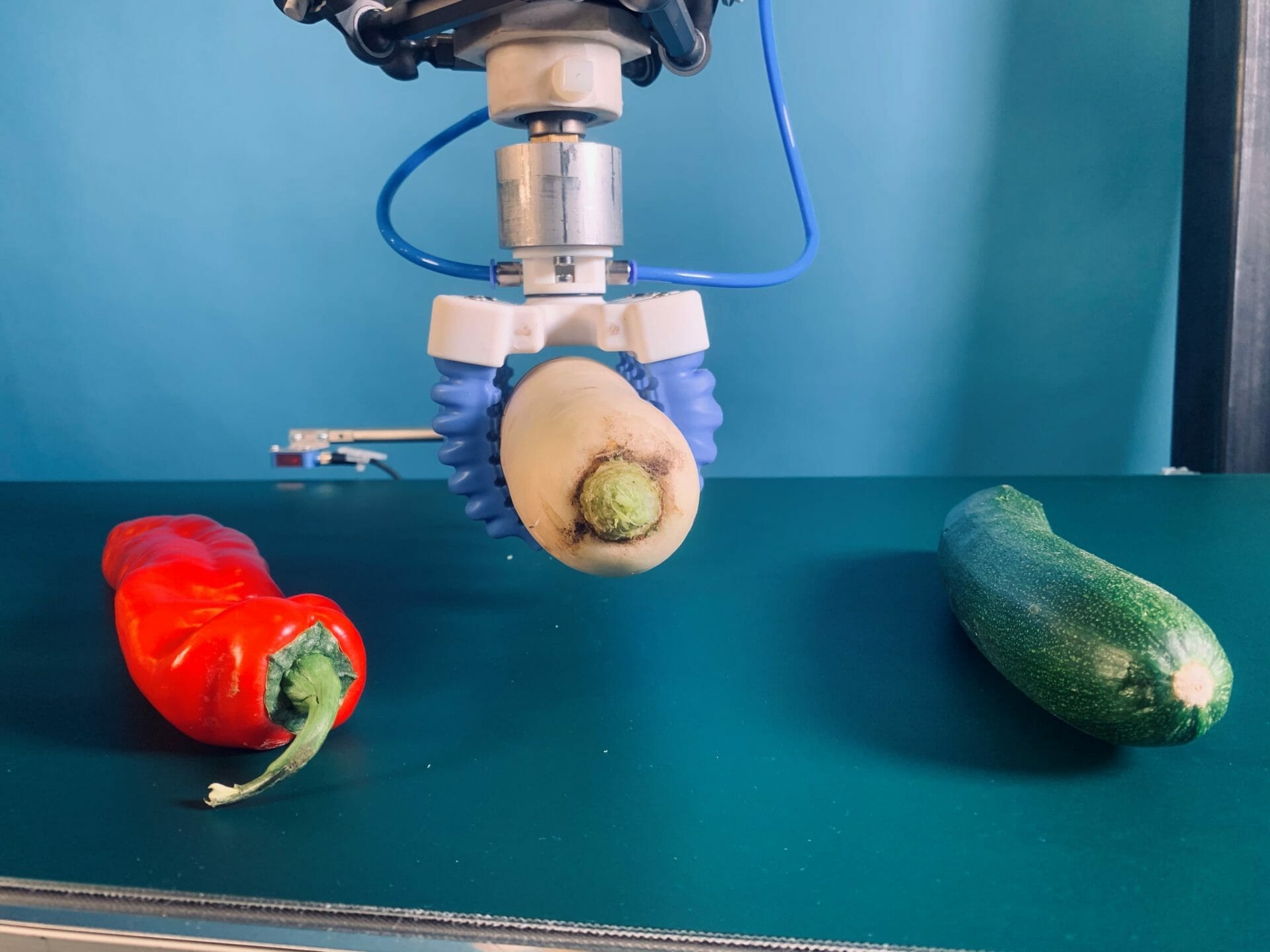 SoftGripper element
SoftGrippers are modular in design. They consist of several elements such as: Flange adapters, bases, fingers and optional seals and suction cups.
Robot flange and gripper base
A flange adapter is required to mount the gripper to the robot. Adapters fit all robots on the market. The shape of the object to be gripped determines the base area of the gripper. A round object needs a central base, a cube or long object needs a parallel base. We offer different types of clamp bases with different numbers of fingers at different angles. This can be used to grip most conceivable objects. We will be happy to design and build a completely self-sufficient base for your specific application in a very short time. The angle of the fingers and the size of the base can be specially adapted to your needs. Optionally, our clamping bases are designed according to hygienic requirements (special screws and seals) and can be supplied with an FDA-approved Coating.
Finger
The heart of our grippers are our SoftGripping fingers. They adapt to the shape of various objects and grip securely without damaging the surface of the object. The main advantages are light weight, high speed and, thanks to its adaptability, the ability to grip objects with different geometries with one gripper. Our pneumatic fingers are made of FDA approved silicone rubber for food handling. We also guarantee a service life of more than 10 million cycles at 1 bar operating pressure.
Accessories
Optional suction cups are available to support the fingers. This is especially useful when picking up objects that are very close together or when additional stabilization is required. The suction cup is mounted in the center of the fixture. Here we provide threads for mounting accessories. To improve accuracy and prevent objects from slipping, our spacers can be used instead of vacuum cups. Alternatively, you can use Aggregate Points for your very specific tool.
Technical data
Material of the fingers: silicone
Operating pressure: -0.5 to 1.0 bar
Grip force per finger: 5N
Longevity: >10 million cycles @1.0 bar, 0.5Hz
Weight per finger: 20g
Scope of delivery
1 x SoftGripper Engineering Kit
The fingers and bases can be ordered individually on request.
Operation Instructions SoftGripper Engineering Kit